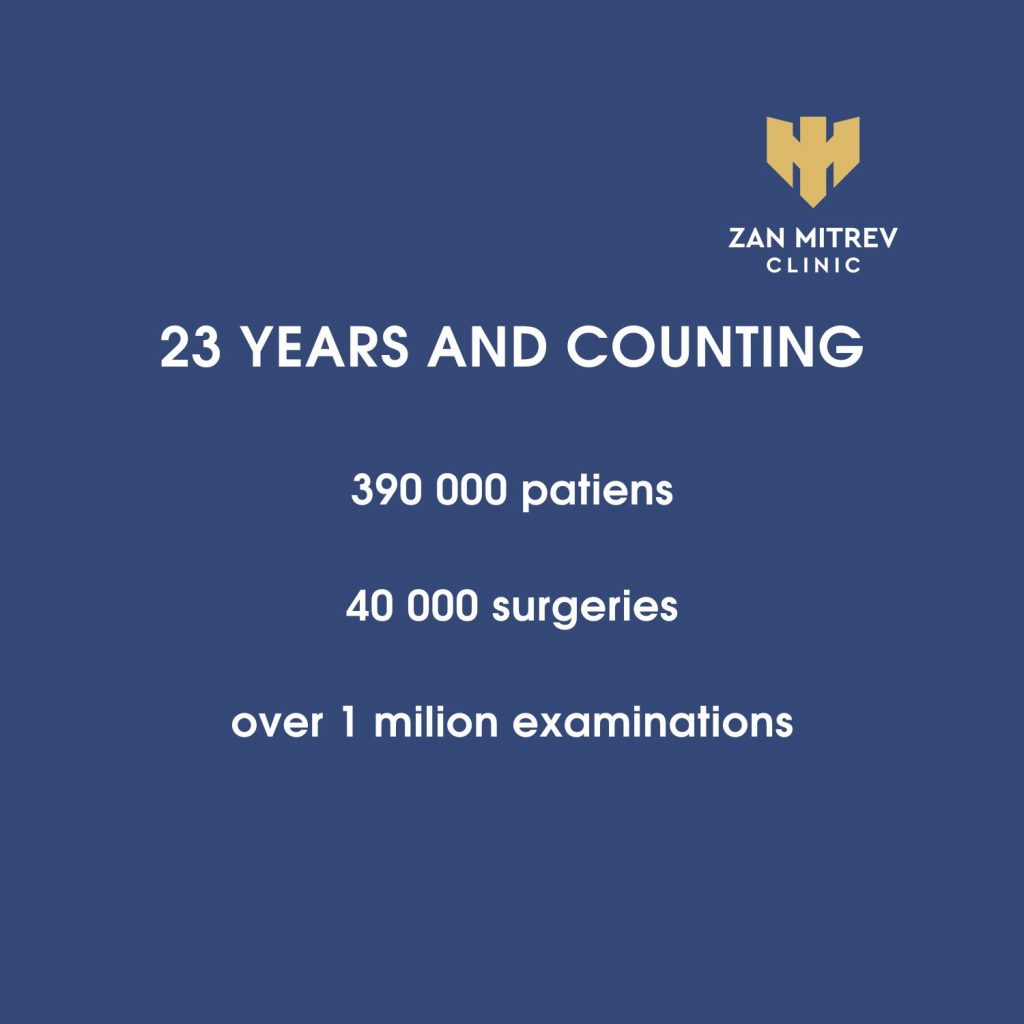 01.03.2023
Today we celebrate 23 years of existence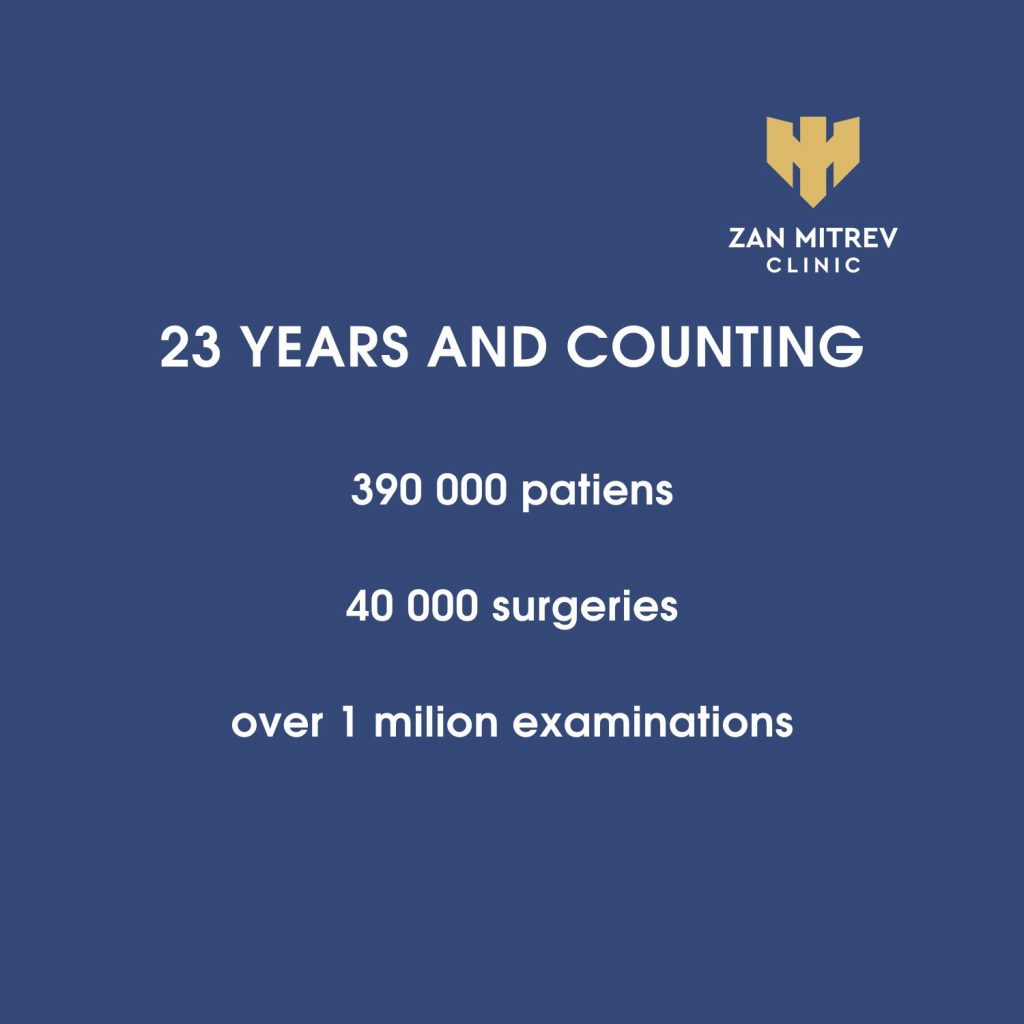 23 years ago, we introduced cardiovascular surgery in Macedonia so that the people could receive best quality medical services.
Today we mark 23 years of existence.
390 000 patients
40 000 surgeries
Over 1 million examinations
350 employees
The Zan Mitrev Clinic story began on this day in 2000, exactly 23 years ago. The cornerstones of the former Hospital "Philip II" were laid in a leased area of the Skopje Military Hospital, where the first by-pass surgery in the country, led by Dr. Zan Mitrev, was performed.
We started with only six employees, a single operating room and twelve (12) hospital beds.
Thanks to the great dedication, persistence, endurance, and of course, the patients' faith, slowly but surely, we developed and grew into the most modern medical centre offering full diagnostic procedures in most medical branches, supported by modern surgery, anesthesia, and intensive care.
Challenges existed back then and will also exist in the future, however, we never lost sight of the vision that started the whole thing:
Health Care Service Excellence.
The goal to provide the people of Macedonia with the best medical service, based on the highest set of standards in the world, has been reached.
As off 2016, "Zan Mitrev Clinic" is located in a new, modern facility, an investment of 40 million euros, with the main mission being to focus on hospital development and achieving the highest service excellence. The Clinic has an area of 17,000 m2, with several operating rooms, intensive and semi-intensive care units where our team of over 350 professionals operates. The Clinic was built based on facility planning, in accordance with its purpose, and meets the highest environmental standards with no CO2 print (Carbon Footprint). It is a fully digital facility (DFM), paper is almost never used in day-to-day operations. Zan Mitrev Clinic waws among the first in Europe to set up a Genetics Laboratory and combine various genetic trials into a routine daily practice. The combination of an individual approach to pharmacogenetics i.e., tolerance/intolerance to certain drugs was the outset of the personalised medicine application tailored to each patient, which helps prevent possible fatal consequences in patients.
Another confirmation of our accomplishments is the fact that in 2020, even in a time of pandemic, we received, for a second time, a Gold Seal Quality Care Programme Accreditation by the Joint Commission International.
In recent years the need for regional presence has arisen. This is why two major diagnostic centres were opened under the Zan Mitrev Diagnostics brand, first one in Strumica and then the other one in Bitola. The purpose behind the opening of these centres was to guarantee the level and quality of our services locally as well as to help patients feel better, safer, and happier.
The Zan Mitrev Clinic continuously invests in constant education and professional development of its employees, hence creating best quality staff ready to face all challenges.
"By following new medical technologies and application of the latest medical equipment, we generate staff, which is a serious long-term investment and based on which we actually achieve our exceptional results. Realistically, we have doctors who are far better trained and with superior professional performance compared to many doctors around the world," says Dr. Mitrev.
WHAT MAKES THIS CLINIC EXCEPTIONAL IS THE UNIQUE APPROACH OFFERING FREE OF CHARGE SURGERY FOR PATIENTS WITH HEART AND BLOOD VESSEL CONDITIONS FOR MORE THAN 20 YEARS. SUCCESSFUL COOPERATION WITH THE STATE HEALTH CARE FUND FOR CARDIOVASCULAR SURGERY ALLOWS PATIENTS TO RECEIVE THESE TOP SERVICES FOR FREE.
Although so far only in the sector of cardiovascular surgery, this still is an example, i.e. it demonstrates how much potential for development of the health care system there is if the working conditions/procedures change.
"Zan Mitrev Clinic" is a classic example of a vision being achieved, a concept that was not at all easy to accomplish and is an illustration for many young people that they can achieve great things here at home.
We are proud of the entire team that made this happen and of course eternally grateful to our patients who entrust us with the most precious thing – their health.